As summer arrives, you start noticing
chips and cracks
on your windshield. These cracks are usually attributed to debris and rocks, or even improper installation of the glass. However, the main culprit is the change in temperature. If left unnoticed, these would necessitate the replacement of your windshield. Usually, summer brings with it expansion of seemingly simple cracks due to increased temperature as the stress exerted on the windshield also increases.
The Mechanism
A typical windshield consists of a vinyl layer sandwiched between two layers of glass. Most cracks chip the first layer only. However, increased stress may result in widening of these cracks. This stress is accentuated by the temperature differences, especially in San Antonio where a
maximum of 95°F
 is observed in the month of July. Additionally, the air conditioning inside your car forms a stark contrast against the outside heat. Both of these factors play a role in the uneven expansion and contraction of the two layers of glass, which eventually leads to cracks. There are some measures however, that can be taken to prevent these cracks from forming.
Cover Your Car
Whenever your car is parked somewhere in the summers, ensure that it's covered up so that the windshield does not get exposed to the intense weather conditions.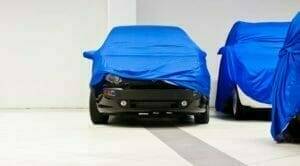 Get Car Maintenance Done
You should get the car checked every now and then. You should also wash it regularly with room temperature water to combat the hot weather and cool it off. This would also help in pressure regulation.
Manage The Internal Temperature Of The Car
If you want to keep your windshield's structural integrity in check, you need to ensure that you manage the temperature of the interior of your vehicle. Don't allow sudden fluctuations and slowly reduce the temperatures inside so the glass can adjust itself to the temperature change. For instance, if the outside temperature is 95°F, you should turn the air conditioning on at 75°F and then lower gradually from there. You should also close the door slowly while exiting or entering your car to maintain the structural integrity of the vehicle. However, despite all these, if you still get a minor crack on either layer of the windshield, get it fixed immediately since these cracks can enlarge very quickly, they need to be identified and repaired before it gets too late. In order to get your vehicle's windshield repaired or replaced, you can reach out to us in San Antonio and
get a free estimate
 for your job. We offer our services at extremely affordable prices without compromising on the quality.